Virtual try on
Choose Virtual Try On Mode
Virtual try on
Face not detected
Face not detected Kindly go back to the previous step and choose another photo.
UNVALID FILE TYPE OR FORMAT
UNVALID FILE TYPE OR FORMAT Please upload a .png or a .jpg file. File size must be between 240x240 and 1200x960 pixels.
YOU SEEM TO BE USING UNSUPPORTED BROWSER OR HAVE DENIED CAMERA ACCESS
YOU SEEM TO BE USING UNSUPPORTED BROWSER OR HAVE DENIED CAMERA ACCESS We noticed you are either using in-app webview or an unsupported browser. To use this service, please allow camera access and open the link with Chrome.
Are you sure you want to leave this page?
Virtual try on
Are you sure you want to leave this page?
Virtual try on
The selected shade is not available to virtual try on. We invite you to try another shade.
Photo is downloaded successfully.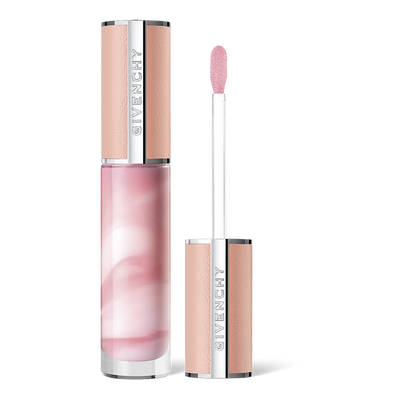 ROSE PERFECTO LIQUID LIP BALM
Lip Balm
Care for your natural glow with the first marbled couture liquid lip balm, infused with color and care
6 shade(s)
Product Reference n° # P084391
Beautifying lip care to nourish and plump with healthy luminous marbled colors.

Non contractual visual: color may change du to PH reactive shade.
PRODUCT DESCRIPTION
THE FIRST MARBLED COUTURE LIQUID
LIP BALM
The enveloping marbled texture of Rose Perfecto Liquid Lip Balm swathes lips in moisturizer-infused color. With 97% skincare ingredients**, its hydrating and comfortable formula is enriched with hyaluronic acid, vitamin C, shea butter, and pink pepper for a nourishing, smoothing, and plumping effect. Day after day, lips are soothed, moisturized, and radiantly healthy.
HYDRATE, PLUMP & NOURISH
Lips are instantly beautified thanks to the immediate plumping effect and ultra-caring creamy texture. Swathed in 24-hour hydration*, the lips are nourished and smoothed.
ICONIC MARBLED SHADES
The new marbled moisturizer formula is infused in color and care to tint the lips with a couture range of fresh shades. The light coverage brings a healthy glossy finish. Iconic shades 001 and 011 adapt to the pH of the lips to create a unique, made-to-measure finish.

ACTIVE INGREDIENTS
NOURISH YOUR BEAUTY
With its skincare formula, this ultra-hydrating liquid lip balm embellishes the natural beauty of your lips. The lightweight, creamy texture melts in for the ultimate feeling of comfort.
SUPER SKINCARE INGREDIENTS
•PINK PEPPER EXTRACT nourishes, protecting from the effects of dehydration.
•HYALURONIC ACID moisturizes and plumps, for full, youthful lips.
•SHEA BUTTER soothes and moisturizes, stimulating and maintaining hydration.
•VITAMIN C energizes lips and improves volume for healthy, natural beauty.

USE AND TIPS
Apply a light coat of Rose Perfecto Liquid lip balm for a natural, glossy effect or build up for extra coverage as desired.
THE ULTIMATE HYDRATING GLOW
For the full natural healthy glow experience, upgrade your skincare with the complete Skin Perfecto routine.
1.Prepare and resurface your skin with Skin Perfecto Skin-Glow Priming Lotion
2.Impart immediate and long-term glow with Skin Perfecto Vitamin Blend Glow Serum
3.Boost skin radiance for immediate and long-lasting healthy glow with Skin Perfecto Radiance Reviver Emulsion
4.Apply Rose Perfecto Liquid Lip Balm for the perfect color-and-care finishing touch
RESULTS
GLOWING RESULTS
Rose Perfecto Liquid Lip Balm is the ultimate natural glow enhancer for your lips:
•24-hour hydration*
•Immediate plumping effect
•Lips are visibly soothed and moisturized day after day
*Instrumental test on 11 volunteers

ECO-RESPONSIBLE COUTURE PACKAGING
AN ECO-CONCEIVED LIQUID BALM
This new marbled formula is encased in an innovative vegan cactus-based case developed thanks to a unique partnership between Givenchy Parfums & the Mexican start-up Desserto®. Rose Perfecto Liquid is also the first Givenchy liquid balm made with a glass bottle.
SHADES
The palette is true to the Rose Perfecto spirit, ranging from nude tones to more intense shades.
001 – PINK IRRESISTIBLE – Your own bespoke pink that adjusts to the unique pH of your lips
011—BLACK PINK —Pink & black marbling for a bespoke plum that adjusts to the unique pH of your lips
110 – MILKY NUDE – The creamiest brown-toned beige for a deliciously nude pout
117 – CHILLING BROWN – Brown with a touch of red for a healthy hint of natural colour.
210 - PINK NUDE – A luminous pink to give your lips a delectably creamy finish
37 – ROUGE GRAINÉ – Already a best-seller, a rich and passionate red that reveals all the power of the Givenchy woman

*Instrumental test on 11 volunteers
**minimum percentage of the liquid balm base in order to hydrate before adding coloring ingredient
NEED HELP?
Our advisors are here to assist you with product and styling advice, and to answer any questions you may have.
Maison
Our Latest articles
Recently Viewed Products