ENGRAVE
Exclusive
Désinvolte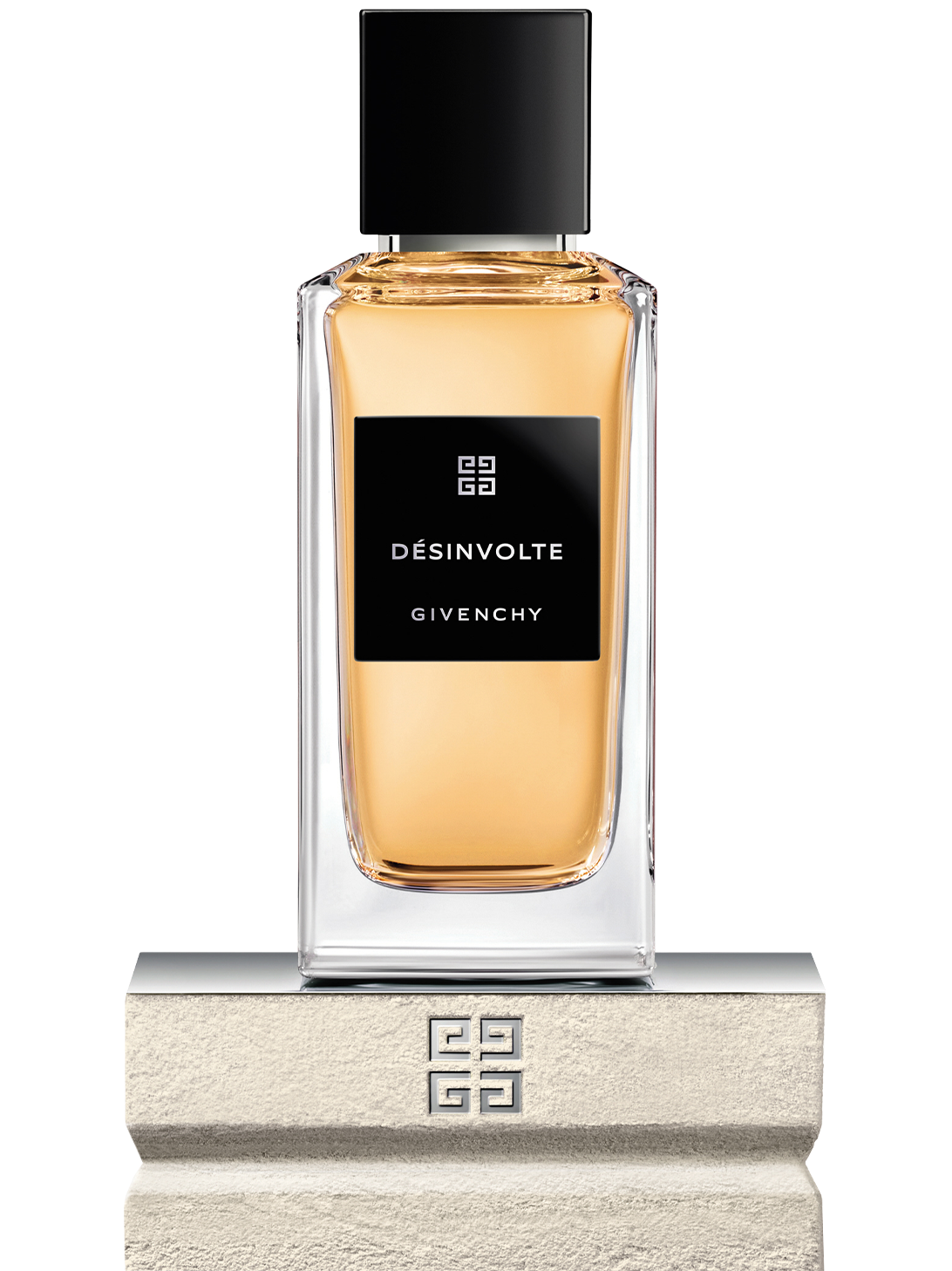 La Collection Particulière – Eau de Parfum
Tuberose, Vetiver
A nonchalantly sophisticated white flowers bouquet.
Intensity 75%
HAVING DOUBTS?

Try It First Sample The protective film must remain intact in order to be able to return the product in the event that it does not suit you. The return policy varies from country to country. Please refer to the Terms and Conditions.
Receive a sample to try before opening the full-sized product. You can return your unopened bottle for reimbursement.
Product Reference n° # P031229
A bouquet of white flowers is carried by the power of Tuberose and textured with the woody elegance of Haitian Vetiver in this nonchalantly sophisticated Eau de Parfum.

La Collection Particulière – crafted from the most precious materials, these fragrances of exception, each with their own powerful temperament express the Maison Givenchy's unique savoir-faire.
PRODUCT DESCRIPTION
Like a free spirit, Désinvolte wanders through the great hall of the Givenchy Hôtel Particulier with an allure combining refreshing lightness with hypnotic irreverence—a charm that is both carefree and ravishing.
This fragrance delivers a generous bouquet composed of a sublime trio of white flower absolutes. At its heart is Indian Tuberose, hand-picked in the Tamil Nadu region in India. This floral sensuality is twisted by the earthy vibrations of Vetiver, whose woody essence creates a facetted perfume alternating between rough and smooth notes, fresh and sensual trail.
The addictive contrast of Tuberose and Vetiver is combined with Orange Blossom and Jasmine, for an unconventional yet distinguished Eau de Parfum.

OLFACTORY NOTES
Floral Woody
-Top: India Tuberose Absolute*
-Heart: Egypt Grandiflorum Jasmine Infusion*, India Grandiflorum Morning Jasmine Absolute*, Morocco and Tunisia Orange Blossom Absolute
-Base: Haïti Vetiver Essence*
This fragrance has been made in France in the Givenchy Ateliers.

MIX & MATCH
Add Accord Particulier to enhance the woody sensuality of the Vetiver notes of Désinvolte and intensify its mysterious sophistication.


CRAFTING PERSONALITIES SINCE 1952
"You have your own style, personality. Accentuate them.
And if you have a favorite perfume, cherish it.
Because it's a part of you."
Hubert de Givenchy
La Collection Particulière, an invitation to meet your olfactory identity, and live the Givenchy Grand Style.

Hubert de Givenchy loved to surround himself with the most exceptional personalities in his Parisian Hôtel Particulier. Friends, artists and muses, all with singular identities, brought life into his home with their extraordinarily eclectic style, a great source of inspiration to the couturier himself.

Like these personalities, The Collection Particulière signs fragrances with unique and powerful temperaments. Meet the daring olfaction of Téméraire, let yourself be overwhelmed by the dazzling trail of Trouble-Fête or surrender to the fiery charisma of Enflammé…
Unique olfactory creations designed to unleash each person's identity.

Crafted from the finest and most noble materials, these exceptional fragrances express the Maison Givenchy's unique savoir-faire.
*Raw material from a supply chain supported by Givenchy and/or its partners. These supply chains benefit from programs aiming at maintaining natural raw materials quality with due respect for workers & environment.
NEED HELP?
Our advisors are here to assist you with product and styling advice, and to answer any questions you may have.
Maison
Our Latest articles
Recently Viewed Products