Virtual try on
Choose Virtual Try On Mode
Virtual try on
Face not detected
Face not detected Kindly go back to the previous step and choose another photo.
UNVALID FILE TYPE OR FORMAT
UNVALID FILE TYPE OR FORMAT Please upload a .png or a .jpg file. File size must be between 240x240 and 1200x960 pixels.
YOU SEEM TO BE USING UNSUPPORTED BROWSER OR HAVE DENIED CAMERA ACCESS
YOU SEEM TO BE USING UNSUPPORTED BROWSER OR HAVE DENIED CAMERA ACCESS We noticed you are either using in-app webview or an unsupported browser. To use this service, please allow camera access and open the link with Chrome.
Are you sure you want to leave this page?
Virtual try on
Are you sure you want to leave this page?
Virtual try on
The selected shade is not available to virtual try on. We invite you to try another shade.
Photo is downloaded successfully.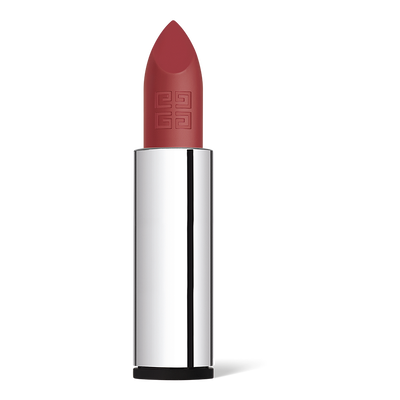 Refill
LE ROUGE SHEER VELVET REFILL
Lipstick Refill
Blurring matte vibrant color
4 shade(s)
Product Reference n° # P083955
With a breakthrough ultra-sleek and luxury refill mechanism — the first to be incorporated into a Givenchy lipstick collection — Le Rouge Sheer Velvet represents a major step towards true refillability.

4 refill shades available:
N°16 NUDE BOISÉ
N°27 ROUGE INFUSÉ
N°36 L'INTERDIT
N°37 ROUGE GRAINÉ

PRODUCT DESCRIPTION
THE EDGIEST MATTE LIPSTICK
Le Rouge Sheer Velvet embodies the unparalleled modernity and elegance of the Givenchy Maison. Vibrant color meets a sheer matte finish, infusing the lips with a long-wear blurring effect that can be built up as desired.
SHADES
16 NUDE BOISÉ – A neutral beige infused with powdery pink.
27 ROUGE INFUSÉ – A subtle shade of deep red infused with dusky pink.
36 L'INTERDIT – The bright tomato red, the iconic lipstick par excellence.
37 ROUGE GRAINÉ – Already a best-seller, the vibrant, warm-toned red.
ACTIVE INGREDIENTS
AN EXCEPTIONAL FORMULA
Infused with 100% natural-origin wild mango butter extract, rich in vitamin E for pure comfort, lips feel soft and supple, while being protected from dehydration. Smooth application is ensured with a uniform pay-off and a super-fine film created by three waxes that bring structure to this sublime lipstick.
For the first time at Givenchy, a powder has been combined with two emollient oils to create a sheer-blurred effect beyond compare. Added to this, mineral powders create an exceptionally matte finish. Finely milled high-tech pigments suspended in a silky oil obtain a perfectly diffused, soft-focus result.
Use & Tips
How to use the refill?
Step 1: open the lipstick and remove the refill.
Step 2: choose your favorite refill shade.
Step 3: insert it into the empty lipstick base.
Le Rouge Sheer Velvet is now ready to use.
RESULTS
EXCEPTIONAL TEST RESULTS
Combining intense color with a sheer matte finish and a lightweight feel, Le Rouge Sheer Velvet is a winner among women who try it.
REMARKABLY WEIGHTLESS TEXTURE
100% agreed the lipstick has a pleasant texture. 97% felt it envelops the lips.
UNIQUE SHEER MATTE RESULT
98% agreed the finish looked natural.
95% said their lips looked blurred.
94% found the result to look uniform.
87% felt it was good lasting.
ULTRA COMFORTABLE FEEL
92% felt the product was comfortable all day.
85% felt it did not dry their lips.
85% reported a care sensation all day.
Self-assessment on 62 women for 7 days.
NEED HELP?
Our advisors are here to assist you with product and styling advice, and to answer any questions you may have.
Recently Viewed Products