New
Téméraire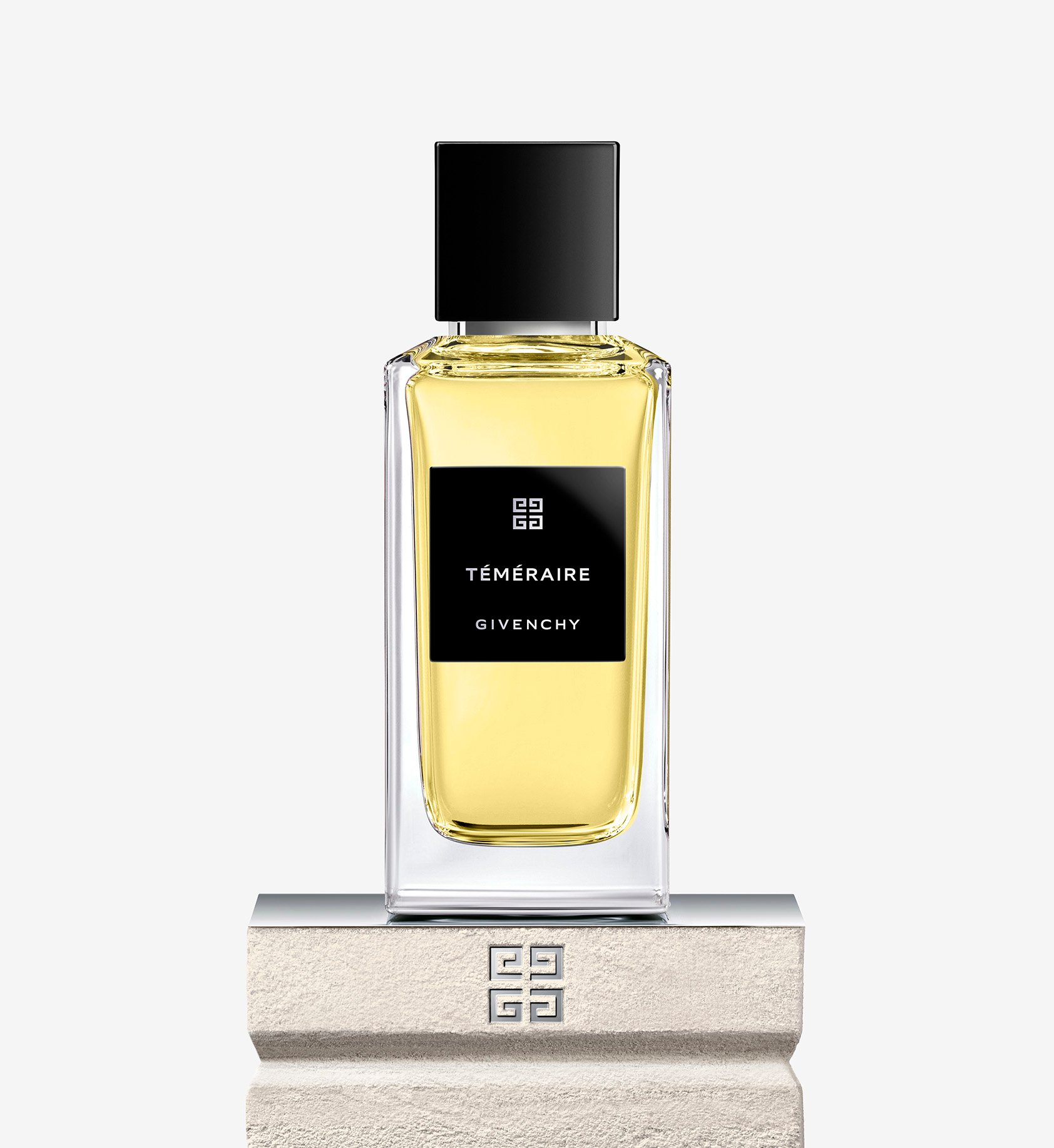 La Collection Particulière - Eau de Parfum
Tuberose, Accord Ink
An unexpected contrast for a powerful and sensual signature.
Intensity 75%
Product Reference n° # P031109
An Audacious Eau de Parfum, revealing the unexpected contrast of an Indian Tuberose Absolute and a smoky woody Ink Accord. For a powerful and sensual signature.

La Collection Particulière – crafted from the most precious materials, these fragrances of exception, each with their own powerful temperament express the Maison Givenchy's unique savoir-faire.
PRODUCT DESCRIPTION
Free and fearless, Téméraire opens the doors of Givenchy's Hotel Particulier to unveil its different facets. Its adventurous spirit leaves the indelible scent of audacity in its path.
This fragrance welcomes you to an unexpected encounter between the pure white notes of an Indian Tuberose Absolute and the depths of an Ink Accord.
This discovery opens on spicy notes of Cardamom Essence and Incisive Clove Leaves.
Its floral bouquet, wrapped in Moroccan Iris, melts into smoky and woody nuances.
Vetiver Java, combined with the power of Atlas Cedarwood, reveals a textured and unique signature.
This pure and intense Tuberose and Ink duo, enriched by the Amber warmth of Spanish Cade and Laotian Benzoin, brings power and sensuality to its trail.

OLFACTORY NOTES
Floral Woody Spicy
-Top: Cardamom Essence Guatemala, Clove Leaf Essence Indonesia
-Heart: Tuberose Absolute India, Iris Concrete Moroco
-Base: Ink Accord (Woodleather® Cedarwood Atlas Essence Vétiver Java Essence)
This fragrance has been made in France in the Givenchy Ateliers.


CRAFTING PERSONALITIES SINCE 1952
"You have your own style, personality. Accentuate them.
And if you have a favorite perfume, cherish it.
Because it's a part of you."
Hubert de Givenchy
La Collection Particulière, an invitation to meet your olfactory identity, and live the Givenchy Grand Style.

Hubert de Givenchy loved to surround himself with the most exceptional personalities in his Parisian Hôtel Particulier. Friends, artists and muses, all with singular identities, brought life into his home with their extraordinarily eclectic style, a great source of inspiration to the couturier himself.

Like these personalities, The Collection Particulière signs fragrances with unique and powerful temperaments. Meet the daring olfaction of Téméraire, let yourself be overwhelmed by the dazzling trail of Trouble-Fête or surrender to the fiery charisma of Enflammé…
Unique olfactory creations designed to unleash each person's identity.

Crafted from the finest and most noble materials, these exceptional fragrances express the Maison Givenchy's unique savoir-faire.
NEED HELP?
Our advisors are here to assist you with product and styling advice, and to answer any questions you may have.
Maison
Our Latest articles
Recently Viewed Products