Virtual try on
Choose Virtual Try On Mode
Virtual try on
Face not detected
Face not detected Kindly go back to the previous step and choose another photo.
UNVALID FILE TYPE OR FORMAT
UNVALID FILE TYPE OR FORMAT Please upload a .png or a .jpg file. File size must be between 240x240 and 1200x960 pixels.
YOU SEEM TO BE USING UNSUPPORTED BROWSER OR HAVE DENIED CAMERA ACCESS
YOU SEEM TO BE USING UNSUPPORTED BROWSER OR HAVE DENIED CAMERA ACCESS We noticed you are either using in-app webview or an unsupported browser. To use this service, please allow camera access and open the link with Chrome.
Are you sure you want to leave this page?
Virtual try on
Are you sure you want to leave this page?
Virtual try on
The selected shade is not available to virtual try on. We invite you to try another shade.
Photo is downloaded successfully.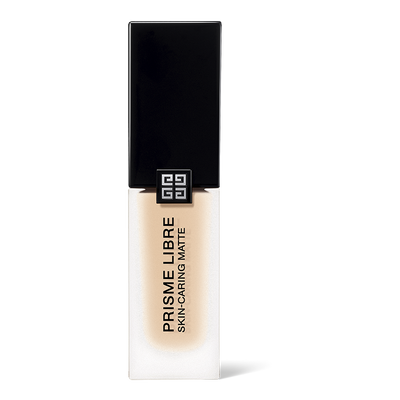 PRISME LIBRE SKIN-CARING MATTE FOUNDATION
24H Matte & Care Foundation
Luminous matte finish care foundation, 24-hour wear.
35 shade(s)
Product Reference n° # P090401
The 24-hour wear and correction¹ of a luminous matte foundation paired with skincare benefits in a lightweight, second-skin formula, made with 82% skincare base⁴ and 97% natural origin ingredients².
PRODUCT DESCRIPTION
A long-lasting, luminous matte formula that offers skincare benefits.


24H WEAR & MATTE FINISH

Complexion is mattified and corrected for 24 hours, with a blurring effect, while preserving its luminosity.

82% SKINCARE BASE & SECOND-SKIN FEEL

Composed from 82% skincare base⁴ and 97% natural origin ingredients², its lightweight formula corrects the complexion while preserving its hydration. Ultra-comfortable, its second-skin finish offers a couture finish and adjustable coverage. Non-comedogenic formula.

THE ART OF COLOR

Ultra-fine, light-reflecting pigments have been blended to create 35 shades with adjustable coverage. The color chart offers three undertones - neutral, warm and cool - to suit all skin tones.

ACTIVE INGREDIENTS
A GAME-CHANGING FORMULA
> CARING – Containing 82% skincare⁴, and 97% natural ingredients², the long-lasting formula let the skin breathe.
> MATTIFYING – The unique Advanced Matte ComplexTM creates a luminous, shine-free finish with a powerhouse of three active ingredients.
Enriched with a duo of pink clay and anatto extract powders both known for their purifying action, the skin's beauty and clarity are improved day after day. The formula also contains a Capucine extract that encourage to revive the skin's natural radiance for a flawlessly luminous matte complexion.
> CORRECTING – Light-reflecting mother of pearls diffuse radiance and bring a subtle color correction. The combination of pigments fuses with the skin to create a blurred and smoothed finish to better reflect light, diffusing a natural matte luminosity.

Use & Tips
For a natural finish, apply with fingers. For increased coverage and correction, use a brush or blender.
Three easy steps to luminous matte perfection:
1. APPLY – Start with the t-zone, followed by the cheeks
2. BLEND – Spread from the center out to the edges of the face
3. PAT – Gently tap to help the active ingredients penetrate deep into the skin
RESULTS
PURE COMFORT
With its light-as-air, melt-in texture, Prisme Libre Skin-Caring Matte Foundation is non-comedogenic and feels ultra-comfortable on the skin. The second-skin finish blends in imperceptibly, for a couture result with adjustable coverage.
OUTSTANDING RESULTS
85% of women found that the foundation leaves a matte finish without being dull⁵
93% of women said the product provides a perfecting blurring effect⁵
91% of women reported a smoothed skin texture⁵
87% of women found that the foundation care for their skin⁵
91% of women noted improved skin clarity⁵
LONG-TERM SKINCARE RESULTS
After four weeks of use, skin quality is improved by 11%. The appearance of pores is reduced by 11%.⁶


KEY BENEFITS
- 24-hour matte wear, luminosity, correction & blurring
- 97% natural origin formula²
- 82% skincare base⁴
- Low transfer
- Sweatproof. Smudgeproof. Waterproof.
- Medium to full buildable coverage
- Breathable, comfortable, non-comedogenic
- Preserves skin's hydration
- Protects skin from external aggression
COUTURE DESIGN
The sculptural packaging echoes the sharp Givenchy couture signature of Prisme Libre, complete with the emblematic 4G logo. As precious as a perfume bottle, the frosted matte glass reflects the luminous matte finish of the foundation it contains.
THE FLACON
The flacon of Prisme Libre Skin-Care Matte Foundation is made from 15% of recycled glass, and its black cap with 72% of recycled plastic. To facilitate its recycling, the pump and the glass bottle have been designed to be separable and recyclable⁷. The outer packaging is composed of cardboard from responsible sources and printed with bio-sourced inks.


THE ULTIMATE MATTE LUMINOUS COMPLEXION
Prisme Libre Skin-Caring Matte Foundation has been specially designed to be teamed with the iconic Prisme Libre Loose Powder. After applying your foundation, swirl the powder quad over the face for the ultimate matte luminous complexion. Add a touch of color with Prisme Libre Blush as a radiant finishing touch.
1- Instrumental test conducted on 20 women.
2- Calculation based on the international ISO standard 16128 Parts 1 and 2. The remaining 3% contribute to optimizing the formula's integrity over time as well as its sensorial texture.
3- At Givenchy.
4- Minimum percentage of the foundation base maintaining the initial hydration of the skin.
5- Tested on 102 women aged between 20 and 40 years old during one week.
6- Clinical tests performed on 32 women aged between 23 and 55 years old over four weeks. Measured on bare skin.
7- Follow local sorting instructions.
NEED HELP?
Our advisors are here to assist you with product and styling advice, and to answer any questions you may have.
Maison
Our Latest articles
Recently Viewed Products