Exclusive
Noctambule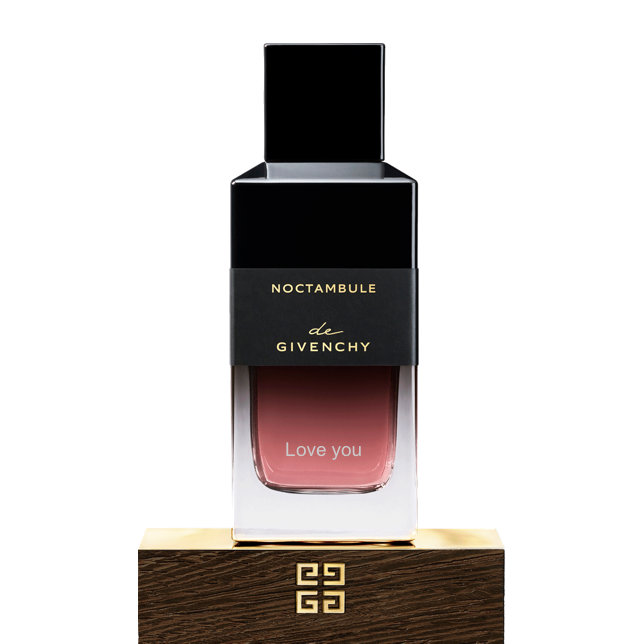 La Collection Particulière - Eau de Parfum Intense
Rose, Papyrus, Oud wood
Spicy, complex and paradoxical, a resolutely enigmatic fragrance.
Intensity 100%
Product Reference n° # P031120
The sacred union of Centifolia Rose from Grasse and a Papyrus Roots accord layered with Malaysian Oud Wood, for an opulently nocturnal Eau de Parfum.

La Collection Particulière – crafted from the most precious materials, these fragrances of exception, each with their own powerful temperament express the Maison Givenchy's unique savoir-faire. Receive Complimentary Express Shipping on any La Collection Particuliere Fragrances.
PRODUCT DESCRIPTION
After the stroke of midnight, Noctambule reveals a dark and mysterious side in the Givenchy Hôtel Particulier. This night owl leads the crowd to the boudoir to keep the party going until dawn.
This fragrance pays tribute to one of the most iconic flowers: the Centifolia Rose. Delicately hand-picked during the month of May, the petals deliver their floral signature through both Rose Essence and Rose Infusion. Beyond this elegant floral facet, the silage unveils an enigmatic scent, associating daring rose with the earthy notes of the Papyrus Roots accord. This is wrapped in the richest Malaysian Oud Wood to reveal animalic and woody notes.
This floral-woody irreverence is dressed up with the vibrant and spicy notes of Pink Pepper and Cumin Essence.
OLFACTORY NOTES
Oud Floral Woody
-Top: Rose Centifolia from Grasse Infusion*
-Heart: Papyrus Accord
-Base: Malaysian Oud Wood Essence

This fragrance has been made in France in the Givenchy Ateliers.

MIX & MATCH
Add Accord Particulier de Givenchy to reveal a more carnal floral side to Noctambule's rose duo. The spicy and woody notes become even more faceted, for an intensely sensual scent.


Oud Wood Collection
Mystical and sacred, Oud captivates the senses and reveals a noble and woody trail with a powerful oriental scent.
Harvested by hand from the heart of the Aquilaria tree, the prestigious resin can only be collected after several decades of patience. Singular and rare, Oud wood is considered to be the most precious wood in perfumery.
Recognizable by the depth of its spicy and subtle animal notes, it infuses fragrances with strength and sensuality.  
Finely selected in accordance with Givenchy's savoir-faire, only the purest and most captivating Ouds, from Bangladesh to Malaysia, are used to enhance the creations of the Eaux de Parfum Intenses in La Collection Particulière. 
CRAFTING PERSONALITIES SINCE 1952
"You have your own style, personality. Accentuate them.
And if you have a favorite perfume, cherish it.
Because it's a part of you."
Hubert de Givenchy
La Collection Particulière, an invitation to meet your olfactory identity, and live the Givenchy Grand Style.

Hubert de Givenchy loved to surround himself with the most exceptional personalities in his Parisian Hôtel Particulier. Friends, artists and muses, all with singular identities, brought life into his home with their extraordinarily eclectic style, a great source of inspiration to the couturier himself.

Like these personalities, The Collection Particulière signs fragrances with unique and powerful temperaments. Meet the daring olfaction of Téméraire, let yourself be overwhelmed by the dazzling trail of Trouble-Fête or surrender to the fiery charisma of Enflammé…
Unique olfactory creations designed to unleash each person's identity.

Crafted from the finest and most noble materials, these exceptional fragrances express the Maison Givenchy's unique savoir-faire.

*Raw material from a supply chain supported by Givenchy and/or its partners. These supply chains benefit from programs aiming at maintaining natural raw materials quality with due respect for workers & environment.
NEED HELP?
Our advisors are here to assist you with product and styling advice, and to answer any questions you may have.
Maison
Our Latest articles
Recently Viewed Products