Virtual try on
Choose Virtual Try On Mode
Virtual try on
Face not detected
Face not detected Kindly go back to the previous step and choose another photo.
UNVALID FILE TYPE OR FORMAT
UNVALID FILE TYPE OR FORMAT Please upload a .png or a .jpg file. File size must be between 240x240 and 1200x960 pixels.
YOU SEEM TO BE USING UNSUPPORTED BROWSER OR HAVE DENIED CAMERA ACCESS
YOU SEEM TO BE USING UNSUPPORTED BROWSER OR HAVE DENIED CAMERA ACCESS We noticed you are either using in-app webview or an unsupported browser. To use this service, please allow camera access and open the link with Chrome.
Are you sure you want to leave this page?
Virtual try on
Are you sure you want to leave this page?
Virtual try on
The selected shade is not available to virtual try on. We invite you to try another shade.
Photo is downloaded successfully.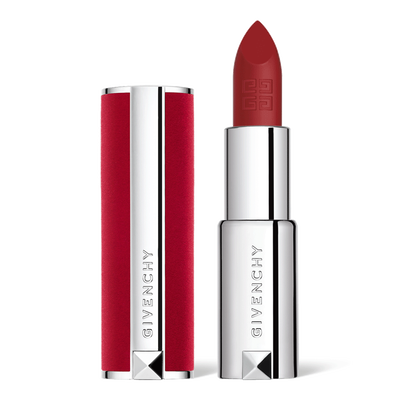 Le Rouge Deep Velvet Matte Lipstick
Lipstick
9 shade(s)
Product Reference n° # P083575
The best-selling lightweight matte lipstick by Givenchy. The highly pigmented, longwearing formula delivers bold color for up to 12 hours.
PRODUCT DESCRIPTION
Le Rouge Deep Velvet – Powdery Matte & High Pigmentation​
Le Rouge Deep Velvet embodies the chic and sensorial attributes of the Givenchy Maison. Covered in a sumptuous red velvet case echoing its powdery matte finish, it is the ultimate couture signature to your look. Comforting, soft and lightweight, the generous powdery texture glides effortlessly on the lip, delivering an ultra matte color from the very first stroke, with a super thin film.​
With a comfortable and long-wearing formula (12 hours*), it preserves the lips' hydration for six hours and ensures an intense makeup result.​
*Instrumental test on 20 women

ACTIVE INGREDIENTS
OIL STRUCTURING WAXES: provide emolliency, help deliver good and uniform payoff for a perfect application. Form a flexible, light, film with a matte appearance.​
SILICONE ELASTOMER POWDER: ensures superior smooth and silky feel. In combination with emollient oil the texture is especially creamy. Color stays soft, flexible and comfortable over time. It also ensures perfect adherence for extended wear.​​
SUBSTANTIVE EMOLLIENT BLEND: rich emollients work on contact with the lips to ensure a deep long lasting hydration. Lips are smooth, nourished, shiny.

USE & TIPS
Apply Le Rouge Deep Velvet on your lips starting from the center of the lips towards the corners, beginning with the upper lip. Continue your application on the lower lip for a Couture matte result.

LE ROUGE DEEP VELVET - POWDERY MATTE & HIGH PIGMENTATION
SHADES:
09 – BEIGE SABLE – A neutral beige nude with a hint of pink, for natural lips.
10 – BEIGE NU – A warm-toned beige nude to enhance the natural beauty of your lips.
12 – NUDE ROSE – A cool-toned powdery pink nude for a fresh, natural effect.
15 – NUDE AMBRE – A delicate warm nude enhanced with dusty rosy tones.
19 – ROUGE SANTAL – A gently warm-toned, deep copper balancing red and orange hues.
25 – FUCHSIA VIBRANT – A vivid, intense pink for a fresh, radiant look that dares to stand out.
26 – FRAMBOISE VELOURS – A cool-toned raspberry shade for a strikingly vibrant pink lip.
27 – ROUGE INFUSÉ – A subtle shade of deep red suffused with dusky pink.
28 – ROSE FUMÉ – A light-medium copper pink with warm undertones.
34 – ROUGE SAFRAN – A deep earthy orange infused with burnt saffron and a hint of red.
35 – ROUGE INITIÉ – A modern and elegant brick red to enhance every skin tone with intense color.
36 – L'INTERDIT – A bright and vibrant pure red—a true Givenchy icon.
37 – ROUGE GRAINÉ – A vibrant, warm-toned red with a hint of brown in a universally flattering shade. A Givenchy best-seller.
38 – GRENAT FUMÉ – A dark burgundy red steeped in deep, cool-toned plum accents.
40 – ROUGE VIGNE – A dark burgundy red steeped in deep, cool-toned plum accents.
42 – VIOLET VELOURS – Vivid plum and dusky pink meet to create a wine-red with cool undertones.
50 – BRUN ACAJOU – A warm brick red with hints of brown for an intense shade.
**Instrumental test on 20 volunteers.
**Based on the ISO 16128 standard. Including water. The remaining 4% contributes to the sensorial texture of the formula and its integrity.

NEED HELP?
Our advisors are here to assist you with product and styling advice, and to answer any questions you may have.
Maison
Our Latest articles
Recently Viewed Products