Exclusive
Noctambule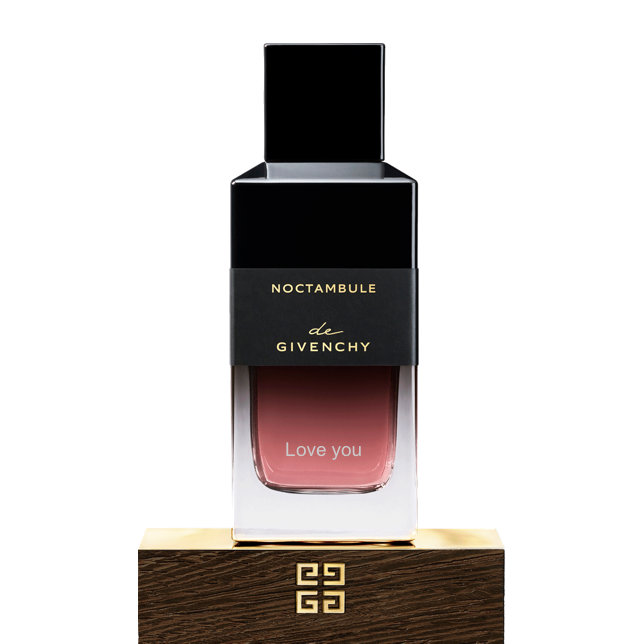 La Collection Particulière - Eau de Parfum Intense
Intensity 100%
0.0 stars out of 5 stars
0 comments
This action will navigate to reviews section (same page).
HAVING DOUBTS?

Try It First Sample The protective film must remain intact in order to be able to return the product in the event that it does not suit you. The return policy varies from country to country. Please refer to the Terms and Conditions.
Receive a sample to try before opening the full-sized product. You can return your unopened bottle for reimbursement.
Product Reference n° # P031120
The sacred union of Centifolia Rose from Grasse and a Papyrus Roots accord layered with Malaysian Oud Wood, for an opulently nocturnal Eau de Parfum.

La Collection Particulière—fragrances with character 
crafted with the greatest distinction.
PRODUCT DESCRIPTION
After the stroke of midnight, Noctambule reveals a dark and mysterious side in the Givenchy Hôtel Particulier. This night owl leads the crowd to the boudoir to keep the party going until dawn.
This fragrance pays tribute to one of the most iconic flowers: the Centifolia Rose. Delicately hand-picked during the month of May, the petals deliver their floral signature through both Rose Essence and Rose Infusion. Beyond this elegant floral facet, the silage unveils an enigmatic scent, associating daring rose with the earthy notes of the Papyrus Roots accord. This is wrapped in the richest Malaysian Oud Wood to reveal animalic and woody notes.
This floral-woody irreverence is dressed up with the vibrant and spicy notes of Pink Pepper and Cumin Essence.
OLFACTORY NOTES
Oud Floral Woody
-Top: Rose Centifolia from Grasse Infusion*
-Heart: Papyrus Accord
-Base: Malaysian Oud Wood Essence

This fragrance has been made in France in the Givenchy Ateliers.

MIX & MATCH
Add Accord Particulier de Givenchy to reveal a more carnal floral side to Noctambule's rose duo. The spicy and woody notes become even more faceted, for an intensely sensual scent.


Oud Wood Collection
Mystical and sacred, Oud captivates the senses and reveals a noble and woody trail with a powerful oriental scent.
Harvested by hand from the heart of the Aquilaria tree, the prestigious resin can only be collected after several decades of patience. Singular and rare, Oud wood is considered to be the most precious wood in perfumery.
Recognizable by the depth of its spicy and subtle animal notes, it infuses fragrances with strength and sensuality.  
Finely selected in accordance with Givenchy's savoir-faire, only the purest and most captivating Ouds, from Bangladesh to Malaysia, are used to enhance the creations of the Eaux de Parfum Intenses in La Collection Particulière. 
CRAFTING PERSONALITIES SINCE 1952
La Collection Particulière, an invitation to encounter your olfactory identity within Hubert de Givenchy's Hôtel Particulier.
Creations with a unique savoir-faire and the most precious ingredients.
Gentleman at heart, Hubert de Givenchy loved to gather the most exceptional and eclectic personalities in his Parisian Hôtel Particulier.
This collection encapsulates each singular identity that inspired the designer, from the most delicate to the most exalted one.
Crafted with the most precious materials, each fragrance is designed to unleash each person's singular personality.
Fragrances with character, crafted with the greatest distinction.

*Raw material from a supply chain supported by Givenchy and/or its partners. These supply chains benefit from programs aiming at maintaining natural raw materials quality with due respect for workers & environment.
NEED HELP?
Our advisors are here to assist you with product and styling advice, and to answer any questions you may have.
Recently Viewed Products