CUSTOMISE
Exclusive
Sans Merci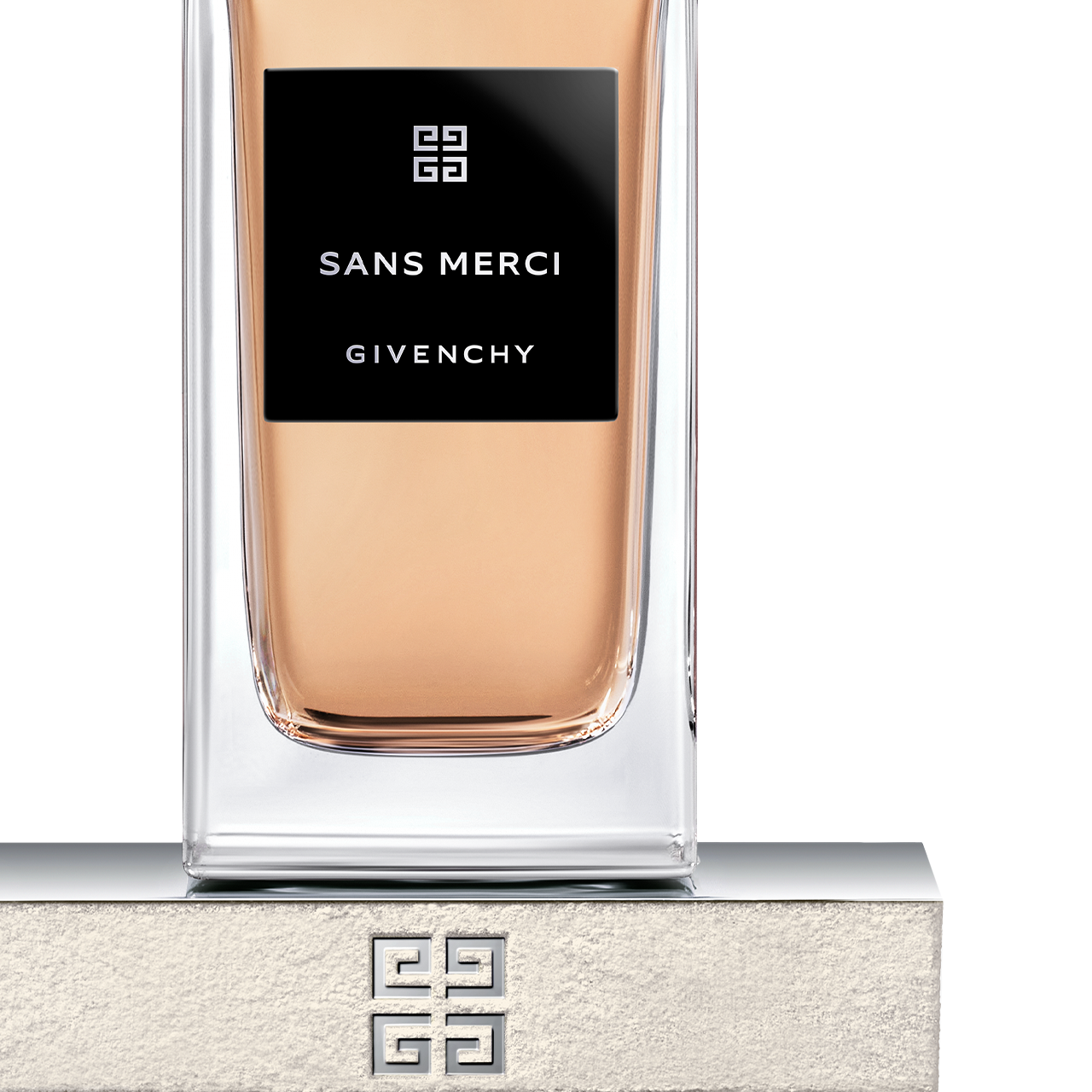 La Collection Particulière – Eau de Parfum
Davana, Vetiver
An assertive, uncompromising trail exuding an addictive sensuality.
Intensity 100%
Product Reference n° # P031231
Rare Essence of Davana and sophisticated Vetiver from Haiti boldly combine to create an uncompromisingly assertive Eau de Parfum.

La Collection Particulière – crafted from the most precious materials, these fragrances of exception, each with their own powerful temperament express the Maison Givenchy's unique savoir-faire.
PRODUCT DESCRIPTION
Sans Merci has an ambitious soul and a lively mind. Striding through the library at the Givenchy Hôtel Particulier with a radically noble allure, this determined character is in step with the surrounding masterpieces.
This scent is a perfumed hymn to Davana. A sacred aromatic plant from India, it is considered a treasure of the monsoon as it requires such care to cultivate that it is rarely found in the wild. Its warm notes exude an addictive sensuality that is fruity, aromatic, woody, and animalistic, but also very powerful with sweet facets. Haitian Vetiver Essence adds a final touch of woody elegance.
The lively fragrance duo of Davana and Vetiver at the heart of Sans Merci is dressed in the velvety, smoky notes of Whisky Accord and Patchouli Essence to create a spirited Eau de Parfum.

OLFACTORY NOTES
Woody Ambery
-Top: Whiskey Accord
-Heart: India Davana Essence*
-Base: Haïti Vetiver Essence*, Indonesia Patchouli Prisma Essence
This fragrance has been made in France in the Givenchy Ateliers.

MIX & MATCH
Add Accord Particulier for a relentlessly scorching olfactory punch. Giving up is not an option.


CRAFTING PERSONALITIES SINCE 1952
"You have your own style, personality. Accentuate them.
And if you have a favorite perfume, cherish it.
Because it's a part of you."
Hubert de Givenchy
La Collection Particulière, an invitation to meet your olfactory identity, and live the Givenchy Grand Style.

Hubert de Givenchy loved to surround himself with the most exceptional personalities in his Parisian Hôtel Particulier. Friends, artists and muses, all with singular identities, brought life into his home with their extraordinarily eclectic style, a great source of inspiration to the couturier himself.

Like these personalities, The Collection Particulière signs fragrances with unique and powerful temperaments. Meet the daring olfaction of Téméraire, let yourself be overwhelmed by the dazzling trail of Trouble-Fête or surrender to the fiery charisma of Enflammé…
Unique olfactory creations designed to unleash each person's identity.

Crafted from the finest and most noble materials, these exceptional fragrances express the Maison Givenchy's unique savoir-faire.
*Raw material from a supply chain supported by Givenchy and/or its partners. These supply chains benefit from programs aiming at maintaining natural raw materials quality with due respect for workers & environment.
NEED HELP?
Our advisors are here to assist you with product and styling advice, and to answer any questions you may have.
Maison
Our Latest articles
Recently Viewed Products