Accord Particulier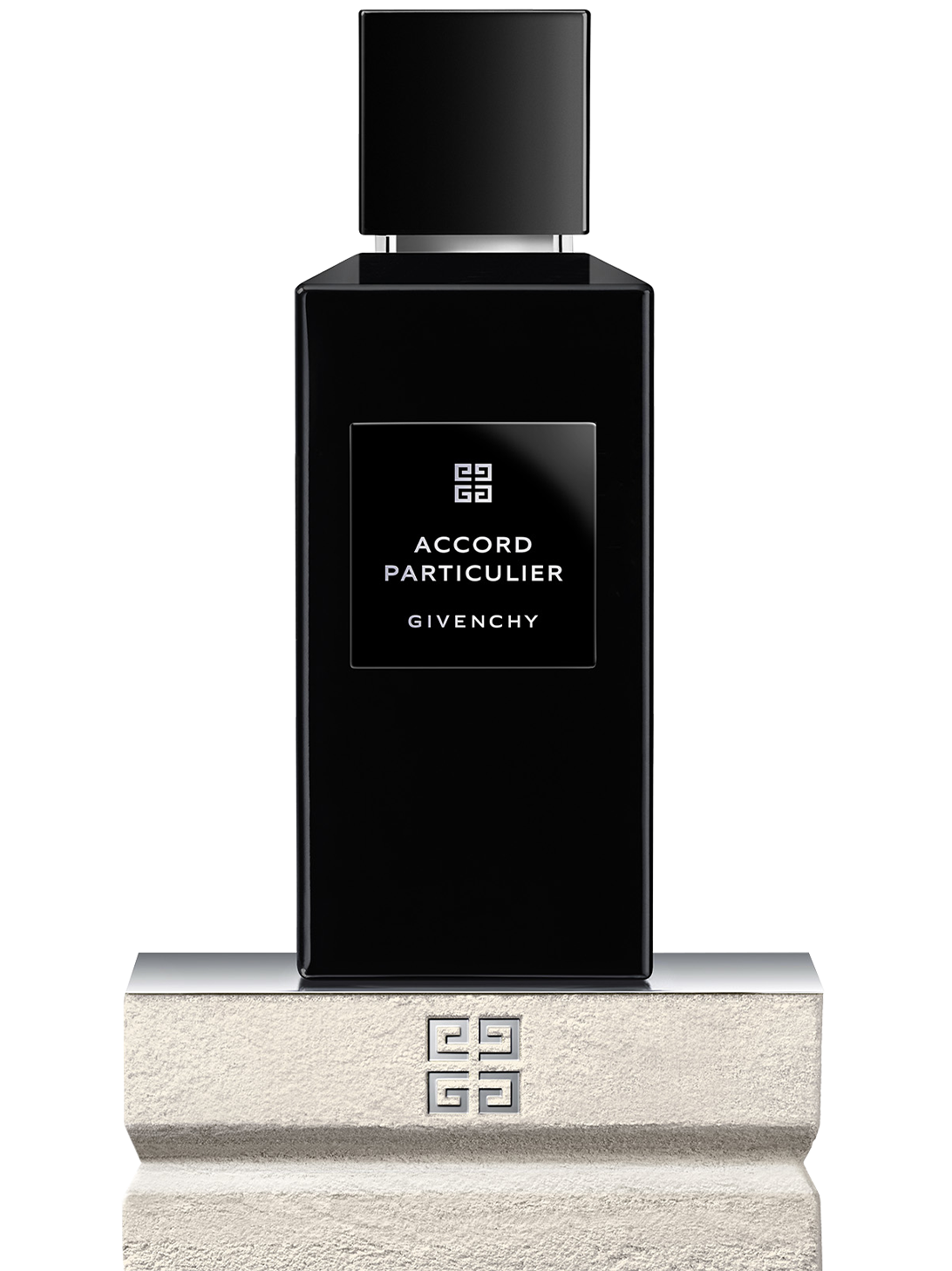 La Collection Particulière – Eau de Parfum
Rose, Vetiver, Patchouli, Ambrox
Subtle and deep, a fragrance to be worn like a second skin.
Intensity 50%
FIND A STORE
Product Reference n° # P031225
The essence of Givenchy. 
This fragrance draws everyone together, while celebrating each unique identity at the same time. 
Like Hubert de Givenchy, this Eau de Parfum—combining Vetiver, Patchouli, Rose, and Ambroxan—takes on the role of the host at the Givenchy Hôtel Particulier.

La Collection Particulière – crafted from the most precious materials, these fragrances of exception, each with their own powerful temperament express the Maison Givenchy's unique savoir-faire.
PRODUCT DESCRIPTION
Like a host who knows how to blend in while imbuing the place with their presence, this perfume is both subtle and striking. Its contrasting composition is structured on the delicate floral tones of rose, embodied by a rich Rose Damascena Essence. But the heart of the perfume remains elsewhere, in a deep and textured palette of the complementary woody notes of Vetiver and Patchouli. Wrapped in the musky, warm tones of Ambrox, the fragrance reveals a deep addiction, with elegance and power, without ever being omnipresent. A fragrance to be worn like a second skin.
This perfectly balanced fragrance is based on the four key ingredients of Givenchy perfumery: Damascena Rose Essence from Turkey, Patchouli Essence from Indonesia, Vetiver from Haiti, and Ambrox.

OLFACTORY NOTES
Woody Musky
-Top: Turkish Damascena Rose Essence
-Heart: Haïti Vetiver Extract*, Indonesia Patchouli Prisma Essence
-Base: Ambrox®

This fragrance has been made in France in the Givenchy Ateliers.

MIX & MATCH
Worn alone, it expresses its signature uniqueness. Combined with one of the other olfactory personalities in the collection, it adds texture, character, and depth. A unique way to amplify each Eau de Parfum's character.


CRAFTING IDENTITIES SINCE 1952
"You have your own style, personality. Accentuate them.
And if you have a favorite perfume, cherish it.
Because it's a part of you."
Hubert de Givenchy
La Collection Particulière, an invitation to meet your olfactory identity, and live the Givenchy Grand Style.

Hubert de Givenchy loved to surround himself with the most exceptional personalities in his Parisian Hôtel Particulier. Friends, artists and muses, all with singular identities, brought life into his home with their extraordinarily eclectic style, a great source of inspiration to the couturier himself.

Like these personalities, The Collection Particulière signs fragrances with unique and powerful temperaments. Meet the daring olfaction of Téméraire, let yourself be overwhelmed by the dazzling trail of Trouble-Fête or surrender to the fiery charisma of Enflammé…
Unique olfactory creations designed to unleash each person's identity.

Crafted from the finest and most noble materials, these exceptional fragrances express the Maison Givenchy's unique savoir-faire.
*Raw material from a supply chain supported by Givenchy and/or its partners. These supply chains benefit from programs aiming at maintaining natural raw materials quality with due respect for workers & environment.
NEED HELP?
Our advisors are here to assist you with product and styling advice, and to answer any questions you may have.
Maison
Our Latest articles
Recently Viewed Products