CUSTOMISE
Exclusive
Enflammé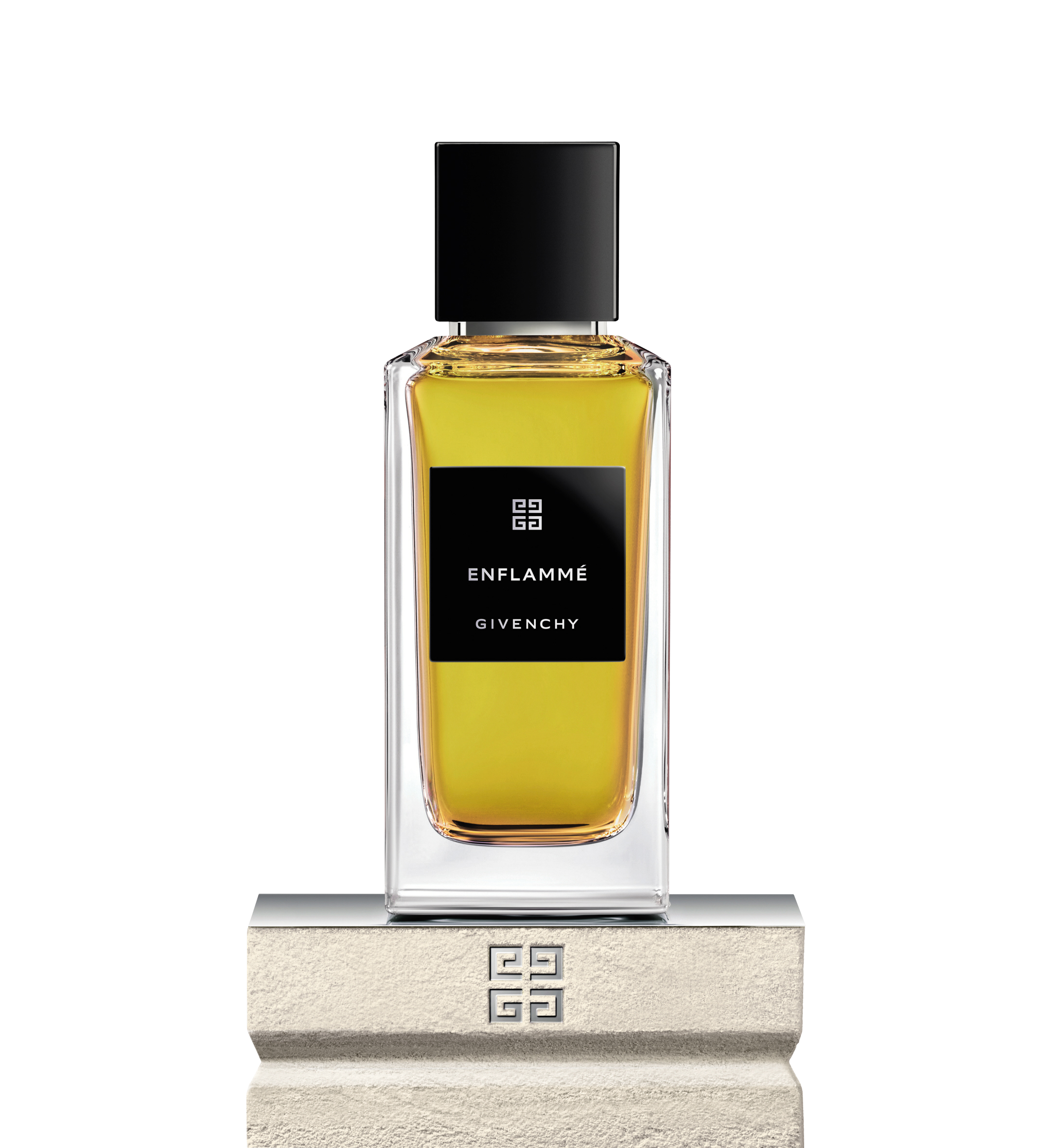 La Collection Particulière – Eau de Parfum
Vanilla, Tobacco Leaf
Burning and hypnotic, a resolutely enchanting Eau de Parfum.
Intensity 100%
HAVING DOUBTS?

Try It First Sample. The full-sized blister pack must remain intact in order to be able to return the product in the event that it does not suit you.
Receive a sample to try before opening the full-sized product. You can return your unopened bottle for reimbursement.
Product Reference n° # P031233
The sparkling confrontation of fiery Vanilla Surabsolute and Turkish Tobacco fans the flames of temptation in this incandescent Eau de Parfum.

La Collection Particulière – crafted from the most precious materials, these fragrances of exception, each with their own powerful temperament express the Maison Givenchy's unique savoir-faire.
PRODUCT DESCRIPTION
With an incendiary charisma running through its veins, Enflammé charms everyone at the Givenchy Hôtel Particulier. Languorous discussions transform into heated debates with a spark that sets the hushed atmosphere ablaze.
The most coveted of all the spices in the world, Vanilla reveals a voluptuous, hypnotic, and sensual perfume. Cultivated by local communities in the Indian Ocean, Vanilla requires significant know-how, remarkable patience, and unwavering attention to be cultivated. The fullness of Vanilla is magnified by the warm and spicy notes of vibrant Tobacco revealing an enchanting signature.
The ardent duo of this perfume is enlivened by the animalistic notes of Labdanum, Tolu Balsam Absolute, embers of Coffee Absolute, and Patchouli, for a surprisingly smoldering Eau de Parfum.

OLFACTORY NOTES
Ambery Woody
-Top: Spain and Portugal Labdanum Absolute, Brazil Santos Coffee Absolute
-Heart: Turkish Balkan Tobacco Absolute, Indonesia Patchouli Prisma Essence
-Base: Madagascar Vanilla Surabsolu, Salvador Tolu Balm Resinoid
This fragrance has been made in France in the Givenchy Ateliers.

MIX & MATCH
Add Accord Particulier to intensify the call of the carnal. Burn the house down.


CRAFTING PERSONALITIES SINCE 1952
"You have your own style, personality. Accentuate them.
And if you have a favorite perfume, cherish it.
Because it's a part of you."
Hubert de Givenchy
La Collection Particulière, an invitation to meet your olfactory identity, and live the Givenchy Grand Style.

Hubert de Givenchy loved to surround himself with the most exceptional personalities in his Parisian Hôtel Particulier. Friends, artists and muses, all with singular identities, brought life into his home with their extraordinarily eclectic style, a great source of inspiration to the couturier himself.

Like these personalities, The Collection Particulière signs fragrances with unique and powerful temperaments. Meet the daring olfaction of Téméraire, let yourself be overwhelmed by the dazzling trail of Trouble-Fête or surrender to the fiery charisma of Enflammé…
Unique olfactory creations designed to unleash each person's identity.

Crafted from the finest and most noble materials, these exceptional fragrances express the Maison Givenchy's unique savoir-faire.
NEED HELP?
Our advisors are here to assist you with product and styling advice, and to answer any questions you may have.
Maison
Our Latest articles
Recently Viewed Products