Virtual try on
Choose Virtual Try On Mode
Virtual try on
Face not detected
Face not detected Kindly go back to the previous step and choose another photo.
UNVALID FILE TYPE OR FORMAT
UNVALID FILE TYPE OR FORMAT Please upload a .png or a .jpg file. File size must be between 240x240 and 1200x960 pixels.
YOU SEEM TO BE USING UNSUPPORTED BROWSER OR HAVE DENIED CAMERA ACCESS
YOU SEEM TO BE USING UNSUPPORTED BROWSER OR HAVE DENIED CAMERA ACCESS We noticed you are either using in-app webview or an unsupported browser. To use this service, please allow camera access and open the link with Chrome.
Are you sure you want to leave this page?
Virtual try on
Are you sure you want to leave this page?
Virtual try on
The selected shade is not available to virtual try on. We invite you to try another shade.
Photo is downloaded successfully.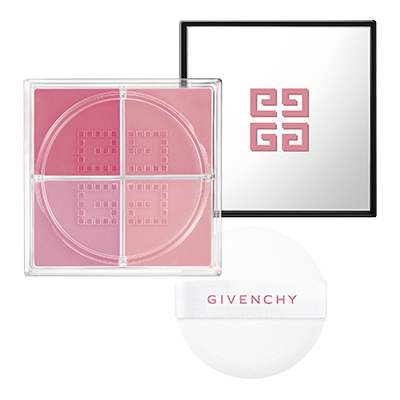 PRISME LIBRE BLUSH
Blush
The first 4-color loose powder blush of Givenchy.
6 shade(s)
Product Reference n° # P080565
The perfect association of color and light to effortlessly illuminate and sculpt cheeks in a 3D translucent healthy flush that stays radiant for 12 hours.*

*Instrumental test performed on 20 volunteers
PRODUCT DESCRIPTION
A full range of vibrant colors:
01 MOUSSELINE LILAS – Light pink and lilac combine for a cool-toned breath of freshness.
02 TAFFETAS ROSÉ – A harmony of vivid pinks.
03 VOILE CORAIL – Coral and orange tones impart a healthy-looking glow.
04 ORGANZA SIENNE – Brick red and burnt sienna enliven the skin with a brown-toned harmony.
05 POPELINE VIOLINE – Deep hues of plum and rosewood create a rich magenta flush of radiance.
06 FLANELLE RUBIS – Rich shades of brick and red illuminate the complexion.
COUTURE PACKAGING
Prisme Libre Blush is practical and portable. It's complete with an integrated powder puff and a mirror on the cap, making it perfect for on-the-go touch-ups.
SUSTAINABILITY
The product is made from FSC™-certified fibres and other responsible sources to reduce its ecological footprint.

Active ingredients
COLOR AND LIGHT
Photochromatic pigments diffuse light and bring depth to the color, for a healthy, radiant and multidimensional finish. The color adjusts on the skin according to the intensity and nature of ambient light to remain luminous and flattering in all settings.
Organic pigments bring pure, rich and vibrant color that stays true without fading.
WEIGHTLESS TEXTURE
With a soft, ultrafine texture, the silky blush fuses with the skin and lets pores breathe. Extra fine micronizedpigments refine the skin's texture with a lighter-than-air veil. The loose powder enables color and light to be diffused in an exceptionally natural way, for a transparent second-skin-like finish.

Use & Tips
THE PRISME LIBRE SIGNATURE APPLICATION
Shake, stamp, blend.
1. Place one or two fingers under the puff ribbon, press the puff onto the sieve and shake twice for the perfect amount of powder.
2. Stamp onto the cheekbone or apples of cheeks according to face shape.
3. Blend in light upward, circular strokes.
Results
LUMINOUS COLOR THAT GOES THE DISTANCE
With a light-as-a-feather texture and color that looks lit from within, Prisme Libre Blush brings radiance and luminous color long wear for up to 12 hours*.
*Instrumental test on 20 volunteers.
ILLUMINATING EFFECT
Women who tested it:
- found the blush gave them an instant healthy glow**
- felt the blush enhanced the natural beauty of their skin**
- said the blush left their complexion looking fresh and luminous**
LONG-LASTING AND LIGHTWEIGHT
Women who tested it:
- found the texture to be as light as a breath and ultra-soft**
- felt the blush let their skin breathe**
- saw that the blush gave a healthy glow all day long and remained comfortable throughout the day**
**Tested on 31 women from 18 to 70 years old. Tested once a day for four consecutive weeks.


COLOR, ILLUMINATE, SCULPT
Complementary illuminating tones blend and interact harmoniously together on the skin for a rush of vibrant, tailor-made color that lasts for up to 12 hours. In one mistake-proof stamp, a 3D, healthy-looking glow lights up the complexion with effortless, youthful radiance.
KEY BENEFITS
• 12-hour long-wear luminous color.*
• Four complementary tones that blend beautifully and seamlessly for a tailor-made, second-skin-like finish.
• Fresh, vibrant colors for naturally flushed cheeks and a youthful complexion.
• Illuminates skin with a healthy glow.
• Sculpts cheeks and subtly defines face.
• Translucent, buildable color for mistake-proof application.
• Luminous matte finish.
• Easy to apply and in an easy-to-carry format for on-the-go touch-ups.
• Breathable, comfortable formula.
• Silky soft, ultra-fine texture that fuses with the skin.
*Instrumental test performed on 20 volunteers.
THE MASTER OF LIGHTS
Use alongside Prisme Libre Skin-Caring Glow foundation and Prisme Libre Loose Powder to add a fresh flush to a beautifully even complexion. To complete your fresh and natural look, add a touch of tinted hydration to your lips with Rose Perfecto.

NEED HELP?
Our advisors are here to assist you with product and styling advice, and to answer any questions you may have.
Recently Viewed Products